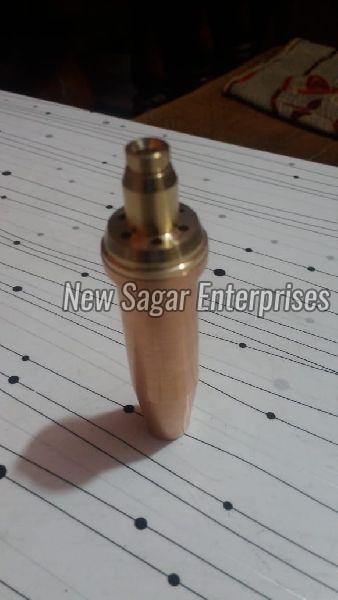 To enable proper gas cutting technology, the use and designing of oxy-fuel machine torch or gas cutting nozzles have come into use. There are certain factors to check while buying a gas cutting nozzle. The prime functions should be correctly done by this nozzle - like cutting Oxygen exiting, flame cutting, gas stream blocking, etc.
Coming to the various types of gas cutting nozzles available commonly in the market includes:
• B-Type Nozzle: This type of nozzle is commonly used in the two-seat blow pipe cutting torches. The two nozzle gas cutter is usually used for LPG based requirements.
• NM Type Nozzle: These nozzles are considered as the safest kind of nozzle because it allows no backfire. These nozzles will enable the mixing of the gases easily. Due to this particular reason, using this NM Type Nozzle makes the chance of backfiring and flashback a very remote occurrence. They are also used for LPG based uses. This type of nozzles is single pieces which are ideally prepared in making use of acetylene.
• A-Type Nozzle: This type of nozzle is usually used in case of two-seat blow piped gas cutting torches. It usually has two pieces for LPG.
Uses of gas cutting nozzles:

The gas cutting nozzle manufacturers in Meerut provide several uses like:
• These cutting nozzles are an ideal gas cutting torch which is widely available for fuel purposes like acetylene and LPG.
• These cutting nozzles which are meant for acetylene are popularly known as ANM nozzles whereas the cutting nozzles which are used in case of LPG are known as the PNM nozzles.
• These cutting nozzles are ideally found in different sizes which are used for cutting metals having different thickness in an easy and hassle-free manner.
The current day cutting convention requires the cutting nozzle and its bore diameter to be as equal to the plate thickness. The matching of the thickness is essential for its proper functioning. The primary reason is that the quality or the velocity of the cutting gas stream will reduce as the distance increases from the nozzle exit point.
If it's forced for an "oversized" nozzle to sever through "thin" material, the quality reduction will happen for sure. Also, it would lead to more consumption of Oxygen while the cutting process. It's not a good idea to use oversized nozzles as big ones can also reduce the square pattern of the cut. Eventually, the cut looks like an inverted"V" and its bottom gets unnecessarily wider.
The traders, suppliers, and distributors provide a wide range of the best gas cutting nozzles following the industry set standards. Majority industries use these cutting nozzles for different kinds of metal cutting and welding applications. Look for industry leading prices, without compromising on quality while buying these nozzles.
There are several gas cutting nozzle exporters in India which provide best quality gas cutting nozzles at a pocket-friendly price. You need to choose the right kind of nozzle suiting to your needs.