Flashback Arrestor: All You Need To Know
Posted by Admin on May, 06, 2020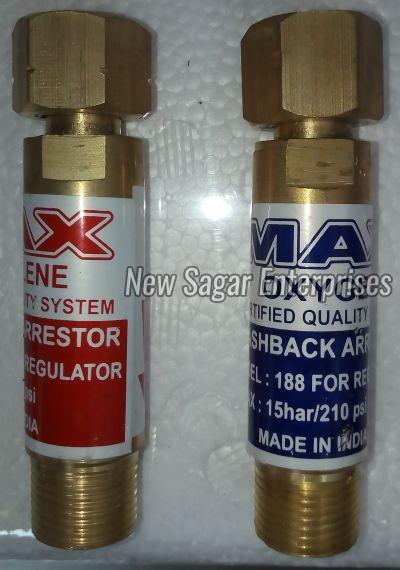 A flashback arrestor or flash arrestor is a gas safety too. It is used during the cutting and welding methods to seize gas's back flow in the line of the supplier. So, a flashback arrestor offers protection to the user and its equipment from any outside damage or to get exploded.
Any flashback arrestor exporter can get you a number of sizes for their supplied products which are having different flow rate too. In the earlier times only 'wet' flashback arrestors were in use. And, today, various industries prefer to use 'dry' flashback arrestors only.

Types of Flashback Arrestors:
Dry flashback Arrestor –
It uses some safety elements in combination to seize a flashback (reverse flow) of gas. Generally all the welding and cutting applications in the industries use this. It requires minimum maintenance and work efficiently in every orientation.
How does a flashback arrestor look like? It has a metal tube which remains occupied with iron wool. This helps to cool the flame and makes it lower than the ignition temperature. In various countries it is mandatory to use flash arrestors on the gas outlet or gas regulator. If the application demands, it can be used as an added safety device too.

What do dry flashback arrestors do?
• If pressure shocks happen, it prevents any further gas flow
• The single cylinders or distribution line need to be restricted with oxygen flow and a flashback arrestor does the job
• Prevents reverse gas flow due to rapid propagation of flame
• If any burnback occurs, it stops any further gas flow inside the application

Wet flashback arrestor –
Liquid flashback arrestors work with the principle of a siphon, where the arrestor stops flame distinguishing by making gas bubbles through liquid which does not absorb gas, for example – water. The only drawback of using dry arrestors is it can work in single orientation only. It is generally takes more space than dry arrestors, so it is best used in the fixed installations only.

Uses of flashback arrestor:
Flashback arrestors are used in different kinds of applications, such as
• It stops catastrophic failures which mean it is able to protect through multiple stages based on the process of flashback arrest.
• It is efficient to prevent accidents due to fuel gases and thus hugely appreciated in the world. Modern generation flashback arrestors contain three elements to protect.
• It contains a cut-off valve which is temperature-sensitive, a flame arrestor and a non-returnable gas valve. In case any dangerous situation occurs and gas flow starts unwantedly into the pipeline, it starts working.
• It can rapidly stop the reverse flow. Hence it is useful in avoiding volatile gas mixture formation.

Benefits of using flashback arrestors:
Any flashback arrestor manufacturer in India can provide you all kinds and sizes of arrestors for your application which are beneficial to stop backfire of gas flow. A few important benefits of using flashback arrestors are –
• Prevents reverse flow of gas
• Stops reverse flow of gas into the pipe
• Offers reverse disconnection
• It tightly covers the sockets and plugs
Just remember to buy flashback arrestors from reputed suppliers or exporters only.
This entry was posted on May, 06, 2020 at 12 : 29 pm and is filed under Flash Back Arrestor. You can follow any responses to this entry through the RSS 2.0 feed. You can leave a response from your own site.