Basic Things You Need To Know About Medical Oxygen Regulators
Posted by Admin on April, 09, 2020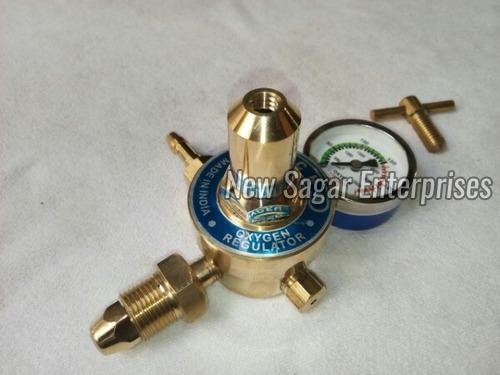 Medical oxygen regulators are the devices used to deliver and regulate supplemental oxygen to an individual that requires oxygen therapy. Generally, the regulators are pressure reducing devices designed to regulate or lower oxygen pressure from a cylinder to certain levels that can be safely used by the patients.

The medical oxygen regulators are generally attached to oxygen cylinders. These medical devices allow oxygen therapy patients to adjust their outflow of oxygen from 0 to 25 liters per minute, depending upon their prescribed needs of oxygen. There are also many medical oxygen regulators that allow you to change the oxygen flow from 0 to 15 liters per minute. Oxygen regulators can reach a higher level of oxygen flow i.e. about 15 liters per minute and are commonly found in hospital settings. Oxygen therapy becomes hassle-free and convenient with a broad selection of oxygen regulators available with medical oxygen regulator exporters and suppliers in the market. Let's take a look at the features and benefits of the medical oxygen regulators provided by the medical oxygen regulator exporters and suppliers -

• They Are Lightweight And Easy To Install: The medical oxygen regulators are lightweight and therefore they can be installed easily.

• They Are Durable: The medical oxygen regulators are known for their elevated durability and reliability making them completely safe for use. These useful devices have high tensile and mechanical strength and are sturdy in nature. These regulators are resilient and won't break if accidentally dropped, making them a safe and secure option.

• They Are Manufactured With Superior Quality Materials: These useful medical devices are manufactured by making use of high-quality materials and do not lose their efficiency easily. Professionals have made use of excellent quality brass, aluminum, and other material to produce these medical devices. The medical oxygen regulators are available with the perfect, anti-tarnish and mega finish. One can find these regulators in different shapes and designs.

• They Are Known For Low maintenance: Because of their high-efficiency, sturdiness, and durable nature, the medical oxygen regulators do not require much maintenance. These regulators can serve their purpose efficiently without the risk of any kind of faults and malfunction during the working process.

• They Have Long Service Life: These regulators are anti-corrosive in nature and are finely crafted with advanced technology to perform efficiently providing safety to the patients. The advanced technology leads to a very less share of faulty goods. Therefore, these oxygen regulators come with long service life.

• They Are Quality tested: The regulators available with medical oxygen regulator exporters and suppliers always go through the highest level of quality check to ensure the 100% accuracy before supplying them to the user end. These regulators are finely designed and properly packed so that they reach the customers in excellent condition.

Besides all the above benefits, these medical oxygen regulators are available at an affordable price and are also easily available in the market nowadays, in all parts of the world.
This entry was posted on April, 09, 2020 at 15 : 15 pm and is filed under Medical Oxygen Regulator. You can follow any responses to this entry through the RSS 2.0 feed. You can leave a response from your own site.